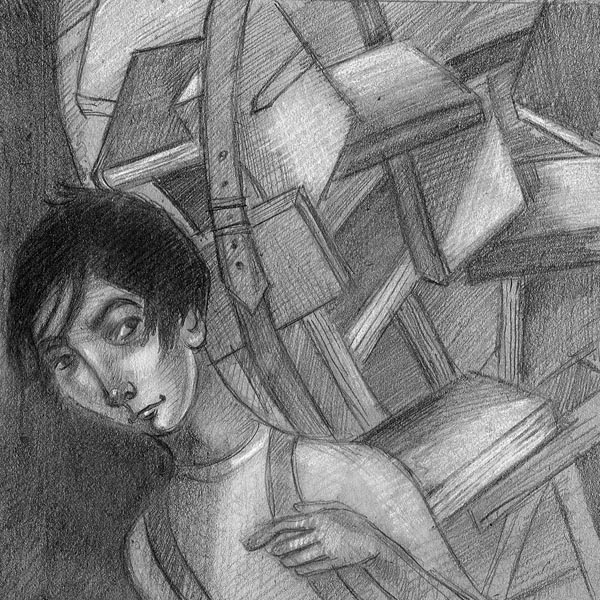 I always wrote a travel narrative before I set off on a trip so that during the journey I'd have something to quote from.
—Yoko Tawada
Packing has always been somewhat of an ordeal for me, a process that involves serious consideration, long suffering, and a TI-85 calculator. I packed so far in advance for my first big trip—a yearlong jaunt to Israel after high school—that I had to wear mismatched socks and tighty whiteys for two weeks.
In recent years, I have calmed down a bit. But the anal-retentive packer in me is still very much there. Although I don't leave for another three months, I have already begun planning what to bring with me to Turkey. There's no list; it's more like a constant interior conversation.Will these pants be good? What sort of adaptor will I need for my iPod? And, most importantly, what books should I bring?
Of course, pants and electrical adaptors are important. But pants and electrical adaptors don't shape your thoughts. They don't embroider themselves into your memories–at least not into mine. I will, for example, always associate my dingy, cold apartment in Tunis with Giovanni's Room, just as I'll always associate The Sound and the Fury with my creaky fire escape in Providence.
By choosing which books to bring, I can make memories in advance, which is why the decision is so difficult. Should I pack books about Turkey or books that will remind me of home? Bernard Lewis and Orhan Pamuk or John Steinbeck and Eudora Welty? Should I bring difficult books that I won't get to otherwise, or books that I know I will enjoy? To tell you the truth, it's a bit overwhelming.
All of this is assuming that I won't be able to buy any books inTurkey. And from what I hear, Istanbul and Ankara both have pretty good foreign language bookstores.
So I could decide to leave my reading up to chance, to bring nothing and see what these bookstores have to offer. There's something exciting about the prospect of a year's worth of reading left entirely in the hands of the book gods. And my bags would certainly be lighter.
But then again, what if these bookstores run out of Jane Eyre? What if Orhan Pamuk gets banned? When it comes down to it, I think I would rather lug that hardback James Baldwin biography through customs than take the chance that I might find it in Turkey.
But why, you may ask, in our globalized web economy of instant gratification, should I be concerned with any of these questions? The answer, dear reader, is simple: shipping and handling. While Amazon does deliver to Turkey, the shipping and handling costs are prohibitive. And so I urge you, instead of forcing me to decide between The Iliad and The Adventures of Kavalier and Clay, to go online and sign the petition to start an Amazon outpost in Turkey: gopetition.co.uk/online/5906.html. —Michael Lukas